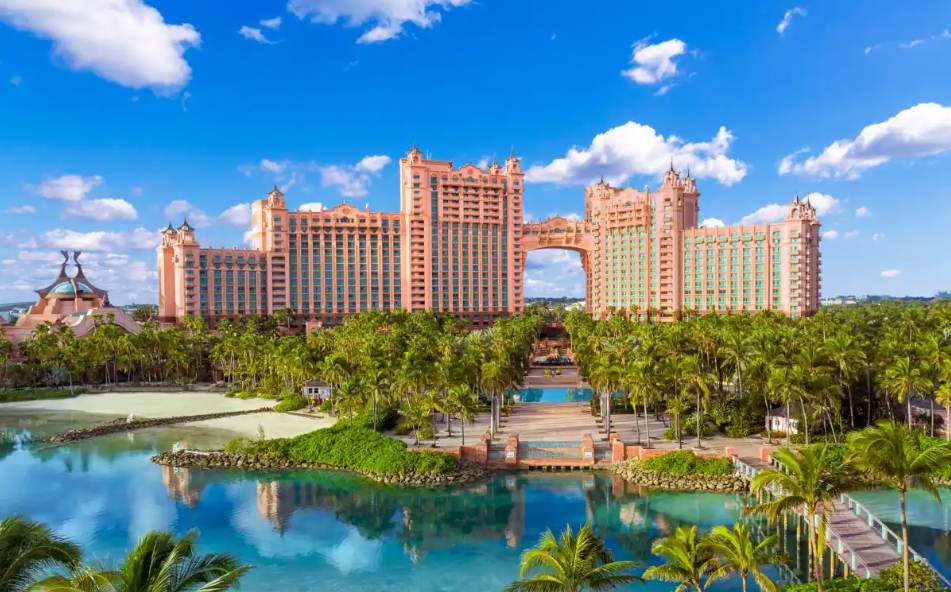 Trip to Atlantis – Dubai City Tour
A must see destination unlike any other, Atlantis Dubai is beyond anything you have ever imagined and is a must see Dubai City Tour. It offers the experiences across stays, dining, entertainment, attractions and wellness etc. It is the Dubai's most vibrant spot.
It is the perfect balance of comfort, luxury and mesmerizing views of Palm Island or the Arabian Sea and is a home to so many celebrity chefs and award-winning restaurants. Atlantis has not stayed in Palms any more there is a recent of Atlantis-The Royal too. Let us first talk about the latest talk of the town.
ATLANTIS, THE ROYAL
Dubai's newest iconic Atlantis The Royal is now open for bookings. It is the most uber-luxury experiential resort in the world.
The experiences Atlantis The royal offers are:
Swim in the Sky
Cloud 22 is the place to be seen when it comes to sky high sparkling infinity pool and captivating views 22 floors high.
Marvel at 4,000 Jellyfish
Have a cocktail in the sophisticated Resonance By Hesston Blumenthal bar, with 4,000 jellyfish to keep you entertained.
Lunch at Milos
Savour Greek flavors with the freshest catch of the day and a view that will make you say you've arrived.
Try the Hamman Sensorium
The Royal Sensorium has re-imagined the traditional bathhouse culture.
Dive into the Deep
Dive into the depths of the Ambassador Lagoon and swim amongst sharks, sting rays and thousands of colorful fish.
Fountain Performances:
Rising 28 meters into the air, the Sky blaze Fountain dramatically collides fire and water to create a spectacular moment where no two shows are alike, no matter how many times you watch.
ATLANTIS, THE PALM
The original Dubai icon – Atlantis, The Palm takes you to a world away from your everyday. A holiday resort filled with bucket-list experiences.
List of Few things you can do here are:
The World's Largest Waterpark
Splash into the world's largest waterpark, home to 105 record-breaking slides, attractions, and experiences.
Dine at Michelin-Starred Restaurants
Indulge in the famous Dim Sum and share a special moment at the award-winning Hakkasan restaurant.
Experience The World's Deepest Aqua Trek
Using a special helmet, you will descend 10 metres deep to experience the thrill of being surrounded by 65,000 dazzling marine species.
Friendly Dolphins
Have a magical encounter with dolphins and make a friend for life.
Surf The Wave Rider
Learn to surf like a pro on the Surf's Up wave machine. You get unlimited access with your Aquaventure Pass.
Lunch at Wavehouse
Once you've worked up an appetite, head upstairs to the Wavehouse terrace for some delicious lunch and sunshine.
Discover 65,000 Marine Animals
Experience what it feels like to snorkel, dive or even walk underwater amongst sharks, giant rays and thousands of colorful fishes. You can also stay in underwater suite.
Sundowners at Arabian Terrace
Enjoy world-class cocktails and shisha with a shimmering view of Dubai's skyline.
Dine Underwater
End your day with dinner at Ossiano, an immersive fine-dining experience in a dreamy underwater setting.
Luxury Car 4 Rent offers luxurious SUV with driver for Atlantis in Dubai City Tour, we also offer Car, Bus, Van, SUV, Limousine with drivers on rent for hourly and daily basis in Abu Dhabi and Dubai.
View All: Vehicle With Drivers
View Cars: Rent Car With Drivers in Dubai Abu Dhabi UAE
View SUV: Rent SUV With Drivers in Dubai Abu Dhabi UAE
View Van:  Rent Van With Drivers in Dubai Abu Dhabi UAE
View Bus:  Rent Bus in Dubai Abu Dhabi UAE
View Limousine: Rent Limousine in Dubai Abu Dhabi UAE