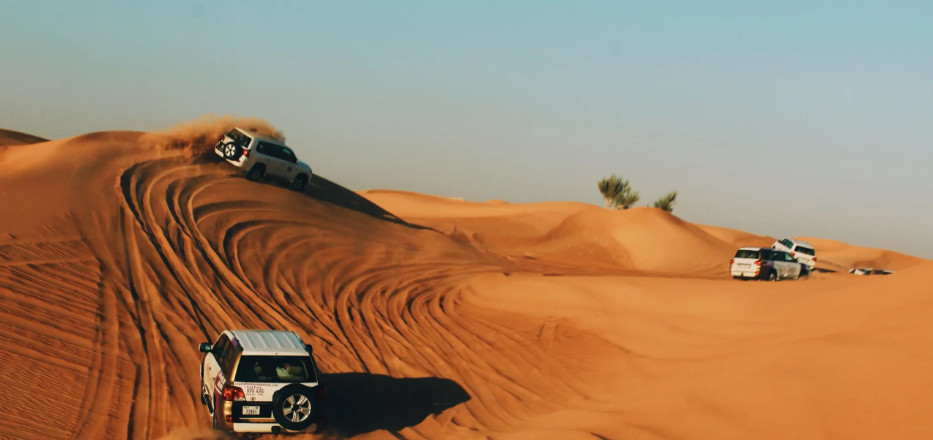 What makes Desert Safari so Special – Dubai City Tour
One of the prime highlights for a Dubai City Tour is Desert safari which is nothing less than an experience of a lifetime. Choose from a number of photography tours, adventurous desert safari experience, adventure instilled night safari, and a memorable night out in the cold desert.
The experiences of spending an eventful day and momentous night in the great Arabian Desert comprise safaris, wildlife-watching on a chauffeur driven Land Cruiser or any SUV, spending an evening submerged in entertainment in the midst of the desert in an Arabic tent accompanied by the grandeur of nature.
Embellished with adventurous rides, Arabian music, and sumptuous food, Dubai night safari exhibits the best of Arabian nights and is definitely worth a try.
It takes approximately 35 min to drive from Dubai to Desert Safari.
Timings for desert safari in the morning are 8 am to 11 am and evening timings are 4 pm to 9 pm.
List of things you can do:
Sunrise – Catch the sun rising from the dunes
Dune bashing – Go exploring the Arabian desert
Camel safari – Take a delightful stroll in the desert
Sand ski – Experience the thrill of riding the desert sand
Quad biking – Ride like a pro
Hot air ballooning – Momentous ride over the Arabian desert
Sunset – Capture the best of the setting Sun
Happening night – Enjoy a night of activities
Buffet dinner – Savour the best of Arabic food; dinner and BBQ session
Overnight safari – Late night dune bashing and stargazing
Luxury Car 4 Rent offers luxurious SUV with driver for Desert Safari in Dubai City Tour, we also offer Car, Bus, Van, SUV, Limousine with drivers on rent for hourly and daily basis in Abu Dhabi and Dubai. We also offer Dubai Airport Pick Drop as well as for Abu Dhabi Airport Transfer Services.
View All: Vehicle With Drivers