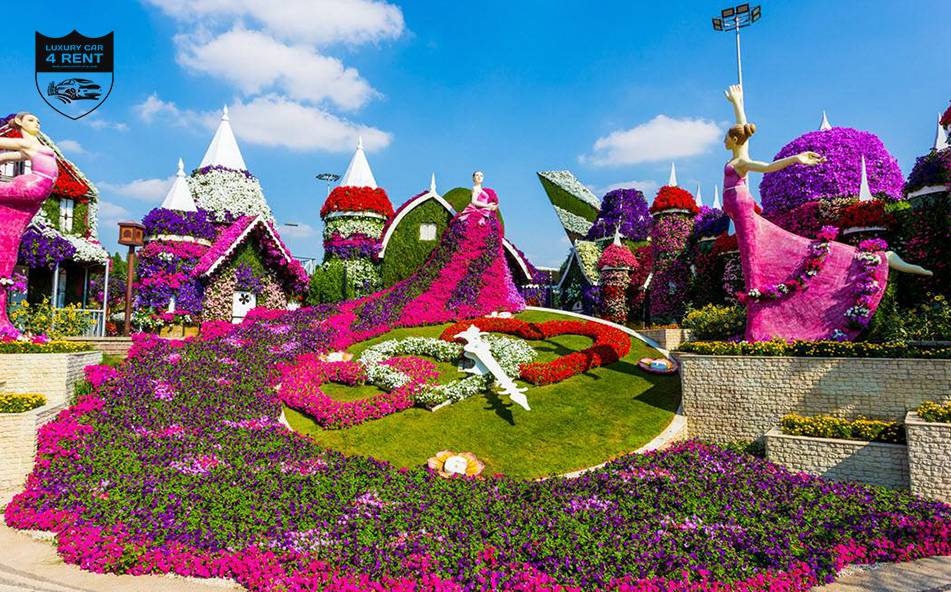 Trip to Miracle Garden Dubai
Dubai Miracle Garden, one of Dubai's top attractions, is the world's largest natural flower garden. The 72,000sqm park has a majestic line-up of famous buildings and structures completely transformed into colorful flower exhibits.
Each season, as the weather begins to cool at the onset of winter, the gates reopen at Dubai Miracle Garden. Flowered into one of the region's most picturesque, sweet-scented destinations, this place indulges your in a world of more than 150 million blooming flowers.
With an affordable ticket, enjoy floral displays at Dubai Miracle Garden by walking down the heart-shaped pathway or wander amid petal-powered castles, illuminated nightscapes and full-size houses.
What are the attractions of Dubai Miracle Garden?
There are a lot of world famous attraction in Miracle Garden including the Emirates A380 floral installation, Smurfs Village, Floral Teddy Bear, Heart Tunnel, a walking track that features daily entertainment, which includes parades, street performers and other family-friendly activities.
Don't miss the Guinness World Record-breaking rendition of an Airbus A380 superjumbo aircraft- the world's largest floral installation. The garden collaborated with Emirates Airline for the centerpiece – covered in more than 500,000 fresh flowers and living plants.
With its unique, larger-than-life double-decker design, the Airbus A380 is one of the most loved super jumbo jets in the world.
Another vibrant display is the new Smurfs Village where fans of all ages can meet the brilliantly-blue characters in landscape arrangements across four immersive zones. A forest of mushroom houses awaits the residents and tourists alike as they explore one of the city's most visited destinations.
Another must-see attraction is the the 'Floating Lady' dressed in exotic blooms lying in the air, arms outstretched without a care in the world as her long hair dangles to the ground.
Dubai Miracle Garden presents time in the form of a beautiful 15-metre floral clock. It's made of real plants and flowers, whose designs are changed according to the season – something particularly relevant to the shifting sands of time, daylight hours and the weather.
Umbrella Passages are one of the most interesting, creatively designed spaces at the garden. They have made the ceiling out of upside-down umbrellas, arranged in rings that are separated by bands of flowers, which have been arranged to match the colors of each umbrella section.
Water and flowers are a wonderful combination, and you can see it come to life at Lake Park. The scene is created by the reflection of floral villas and 3D flower-laden models against the blue sky.
The vibrant flowers lend a sense of verticality to Dubai Miracle Garden. Visitors navigate a wonderful passage that takes them to a lower part of the garden. From this vantage point, you can enjoy a unique perspective on the hill, with its colorful flowers rising from the bottom to the higher points.
From giant floral mushrooms and humanoid ants with flowery thoraxes to rose-laden swans and flower-powered cars, these attractions have proven a long-time favorite at Dubai Miracle Garden.
Sunflower Field

As their name suggests, sunflowers love the sun. In fact, they need it so badly that they actually turn to face it when they're young. It's only fitting, then, that sunflowers look their finest on bright, sunny days.
Floral Villas

Turn right down the main path when you enter Dubai Miracle Garden and you'll see a line of cute Floral Houses.
Floral Castle

In keeping with the Disney theme of magical lands, Dubai Miracle Garden is home to a floral castle that would be right at home in any enchanted kingdom, circled by the scent of daisies and sunflowers.
Cabanas

Taking a quick break after a long walk inside the garden? They have plenty of cabanas to chill out with billowing drapes and floor cushions. A perfect spot to recharge and experience the Hawaiian ambiance.
How much is a ticket for Miracle Garden?
Ticket prices for Dubai Miracle Garden vary depending on age. While you have to pay a ticket for adults (aged 12 and above) and for children aged three to 12, entrance is free for younger children and people of determination.
What is the best time to visit Miracle Garden?
The best time to visit Dubai Miracle Garden is after 4pm to catch the sunset views or you could visit closer to the opening time for a less busy experience. You may also prefer to visit during cooler months.
What are Miracle Garden's timing?
The Dubai Miracle Garden timings are between 9 AM and 9 PM on weekdays. On the weekends, it opens at 9 AM and remains open till 11 PM.
How long does it take to explore the Dubai Miracle Garden?
If explored properly, you can complete the entire visit in 3 to 4 hours.
Is taking food along allowed at Miracle Garden?
It is not permitted to bring your own food and drink into Dubai Miracle Garden but you can easily buy drinks and snacks inside from the many restaurants, coffee shops, candy stores and vendors available inside the venue. Dubai Miracle Garden is also located near to a number of restaurants in the Arjan, Motor City and Barsha South neighborhoods.
Luxury Car 4 Rent offers luxurious cars with driver for Miracle Garden Trip in Dubai City Tour, we also offer Car, Bus, Van, SUV, Limousine with drivers on rent for hourly and daily basis in Abu Dhabi and Dubai.
View All: Vehicle With Driver
View Cars: Rent Car With Drivers in Dubai Abu Dhabi UAE
View SUV: Rent SUV With Drivers in Dubai Abu Dhabi UAE
View Van:  Rent Van With Drivers in Dubai Abu Dhabi UAE
View Bus:  Rent Bus in Dubai Abu Dhabi UAE
View Limousine: Rent Limousine in Dubai Abu Dhabi UAE