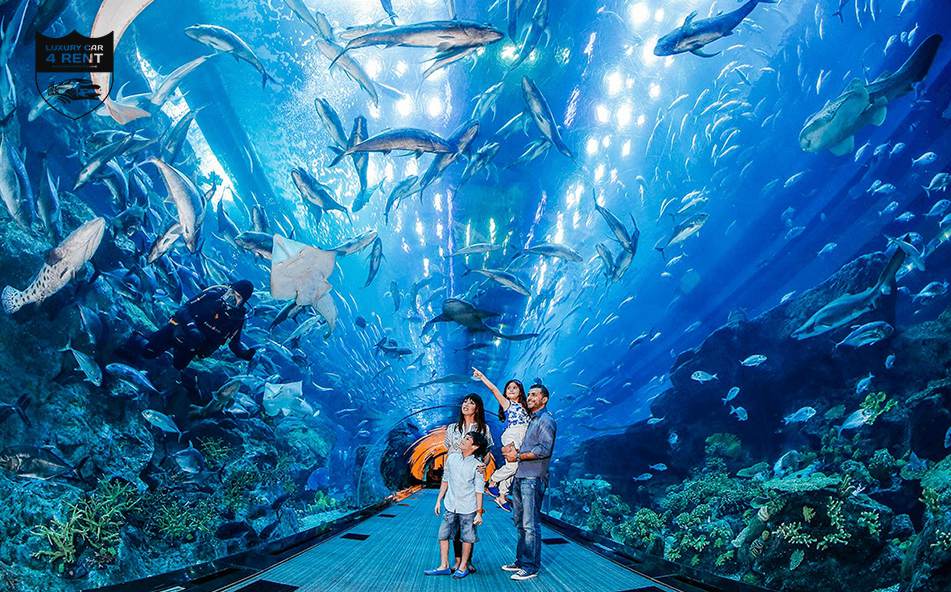 Dubai Mall is the second largest mall in the world with more than 1200 retail shops spreading over 4 floors, two major department stores, Galeries Lafayette and Bloomingdale's, along with over 200 international dining experiences and a wide range of entertainment and leisure attractions for families to enjoy.
It is an architectural marvel, covering more than 1 million sqm – an area equivalent to 200 football pitches. The mall is visited by more than 54 million visitors each year!
The mega mall is a part of the Dubai $20 billion Downtown Dubai complex. Here you can shop luxury brands at Fashion Avenue, enjoy with family at Dubai Aquarium & Underwater Zoo etc., dine at famous restaurants and cafes, and stay as well at Armani hotel and the Address hotel that is linked to the mall.
Here is a list of things that you can do at Dubai:
For lovers of high fashion, there are more than 200 shops, over 70 signature outlets beckon your attention, including retailers such as Galeries Lafayette and Bloomingdale's, the first in the Middle East.
For haute couture, head to Fashion Avenue – the lifestyle precinct where you can experience the latest collections from world renowned designers and brands such as Versace, Burberry and more.
You can also find the finest gold jewellery in the Gold Souk as well as the latest in footwear at level Shoes.
For shopping purposes visit in the month of January during the Dubai Shopping Festival or mid-July for the 45 days long Dubai Summer Surprises to enjoy insane discounts.
Dubai mall is located next to the world's tallest building, the Burj Khalifa, on the Financial Center Street. It offers a 360-degree view of Dubai.
Dubai Aquarium and Underwater Zoo
With an aquarium as high as 11 meters, Dubai Mall is the ultimate family entertainment destination with largest Aquarium in the world and Underwater Zoo
Dubai Fountain
Don't miss the indoor fountain, one of the most photographed spots in the mall.
Ice Skating Rink
The Olympic-sized Ice Skating Rink is perfect for international events.
KidZania Dubai
It is a children's 'edutainment' concept where kids not only enjoy but learn as well.
Dubai Dino
There are plenty of things that you can do at the Dubai Mall for free such as the Dubai Dino Exhibit that offers a view of the monumental exhibit of 155 million years old dinosaur skeletons at the Souk.
Reel Cinemas
There is a massive indoor cinema complex.
Stay at the Armani and Address Hotel
Surrounding the Dubai Mall is some of the world-renowned premium luxury hotels.
There is a direct access to the five-star Address Dubai Mall, ensuring a seamless shopping experience for hotel guests.
Dubai mall Zabeel
Dubai Mall Zabeel is a significant new expansion that adds almost 15,000sqm of lifestyle space, with an incredible array of art on display – all linked by a fully air-conditioned link bridge from Dubai Mall.
It offers various retail options and 3,000 new parking spaces.
Ekart Zabeel is another family entertainment experience.
The human Waterfall
The Breathtaking site of Human Waterfalls is another most photographed spot.
The Village
It features a retractable roof opened in the winter months to offer shoppers an outdoor experience.
Hysteria
the haunted house experience is another attraction for family entertainment.
Creek Tower Replica
Located in the Grand Atrium in the mall, the huge replica of Dubai creek Tower is made of aluminum and 3D-printed cladding elements and weighs 3,000kg.
Infinity Des Lumieres
It is a digital art museum for remarkable exhibitions.
PLAY DXB
The world's biggest virtual reality zone, VR Park, has now evolved into Play DXB. It offers diverse entertainment with plenty of options that toddlers, teens and the young at heart can enjoy.
Emirates A380 experience
You can pilot the world's largest passenger aircraft on the Emirates A380 Experience, a state-of-the art Airbus flight simulator at the Dubai Mall.
The facilities that the the mall offers are:
In-Mall Chauffeur
Prayer Rooms
Free Wheelchairs
In-Mall childcare service for 100 AED per hour.
Free Mobile Charging stations
Emaar Gift Cards
ATM Machines
Kiddie Carts
Electric Car Charging
How to reach Dubai Mall:
lf you plan to drive to Dubai Mall from the centre of Dubai, take the first interchange and proceed through Financial Centre Road (formerly Doha Street). You will see the approach road to Dubai Mall on the right-hand side.
If you're coming from Abu Dhabi, take the exit to Financial Centre Road (formerly Doha Street) from the first interchange.
Mall Timings:
Main timing of mall are from 10am in the morning to 1am.
Luxury Car 4 Rent offers Luxurious cars with driver Rental Service for Dubai Mall Trip in Dubai City Tour, we also offer Car, Bus, Van, SUV, Limousine with drivers on rent for hourly and daily basis in Abu Dhabi and Dubai.
View All: Vehicle With Driver
View Cars: Rent Car With Drivers in Dubai Abu Dhabi UAE
View SUV: Rent SUV With Drivers in Dubai Abu Dhabi UAE
View Van:  Rent Van With Drivers in Dubai Abu Dhabi UAE
View Bus:  Rent Bus in Dubai Abu Dhabi UAE
View Limousine: Rent Limousine in Dubai Abu Dhabi UAE